Who is Magellan Midstream Partners?
Magellan Midstream Partners, L.P. is a publicly traded partnership that primarily transports, stores and distributes refined petroleum products and crude oil based in Tulsa, Okla. Formerly a part of Williams Companies, Magellan began trading as Williams Energy Partners in February 2001. In September 2003, we changed our name to Magellan Midstream Partners and began trading under the stock ticker MMP.
In 2004, Magellan purchased significant assets from Shell, including more than 3,000 miles of refined product pipelines as well as terminals and storage capacity. In 2009, we bought the Longhorn Pipeline running from Houston to El Paso. The reversal of this line has played a key part in Magellan's move into the crude oil business. In 2010, Magellan purchased another 100 miles of pipeline and 7.8 million barrels of storage from BP. In 2013, Magellan acquired approximately 800 miles of refined petroleum products pipeline, four terminals and 1.7 million barrels of storage from Plains All American Pipeline. This purchase added assets in Colorado, New Mexico, South Dakota and Wyoming.
Today, Magellan has a 9,800-mile refined products pipeline system with 54 connected terminals and two marine storage terminals (one of which is owned through a joint venture). In addition, we own approximately 2,200 miles of crude oil pipelines, a condensate splitter and storage facilities with an aggregate storage capacity of about 39 million barrels, of which 29 million are used for contract storage. Approximately 1,000 miles of these pipelines, the condensate splitter and 31 million barrels of this storage capacity (including 25 million barrels used for contract storage) are wholly-owned, and the remainder is owned through joint ventures.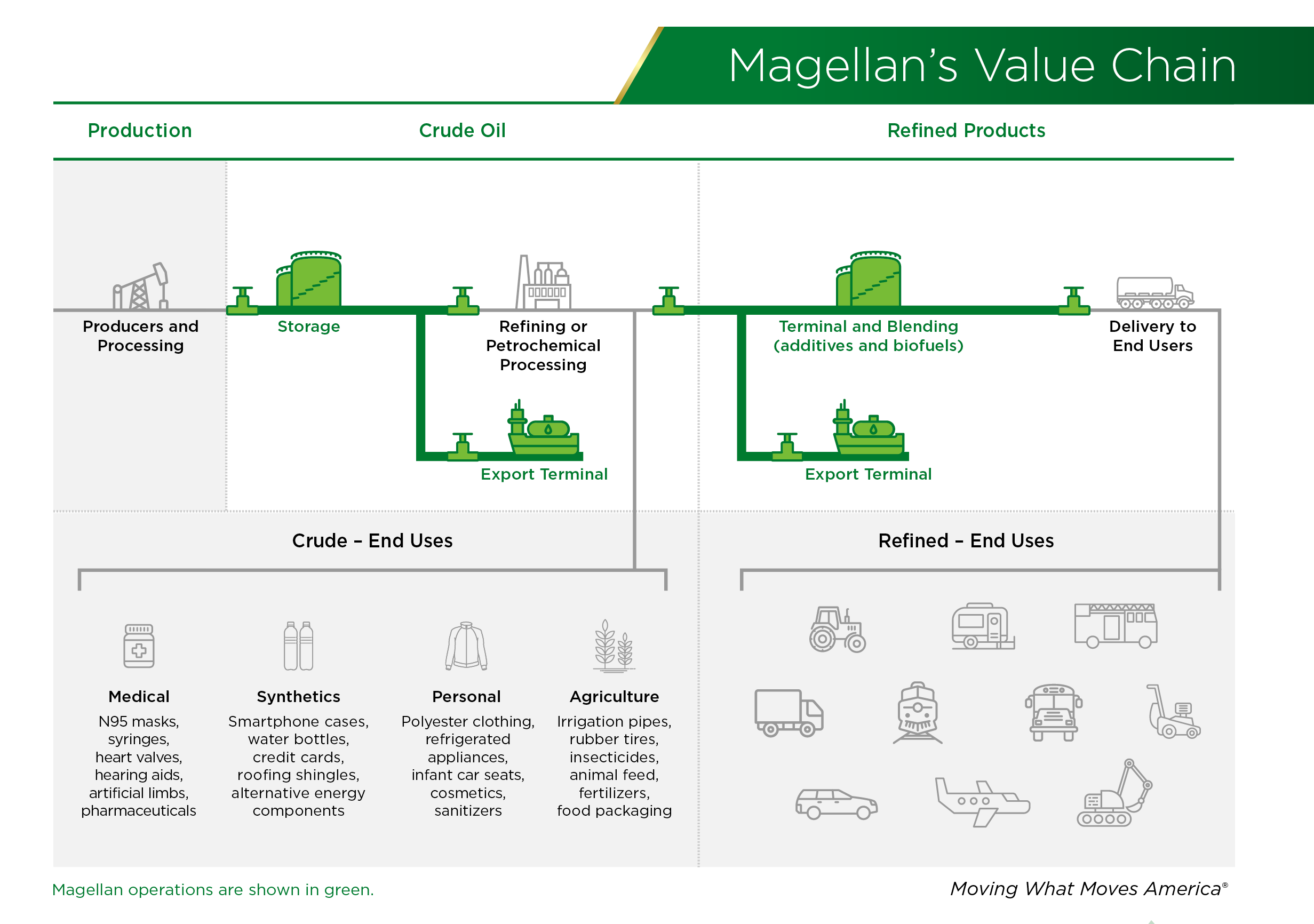 Magellan Vision
The foundations of our business, to be driven through an engaged and innovative workforce, are safe, reliable and efficient operations conducted in a responsible manner in combination with superior customer service. Upon these foundations, we will strive to maximize long-term economic value by providing essential fuels and related services to the communities and markets we serve in order to thrive today and in the future.