24 Hour Emergency Number: 800-720-2417
Magellan is committed to safe operations of our assets. We maintain the highest standards in safety to do so. As part of our SIP Community Relations Program, Magellan strives to enhance public safety and environmental protection through increased public awareness and knowledge. By sharing information with property owners, businesses, excavators, emergency responders, public officials and other interested parties, we aim to raise the awareness of our pipeline facilities and help the public better understand the roles they can play in contributing to pipeline safety.
Identifying Magellan's Pipeline
Pipelines are marked by above-ground signs to indicate the approximate location, product carried and the name and contact information of the company that operates the pipeline. Pipelines are located in areas called a right-of-way (ROW) and these ROWs or areas are often recognizable as corridors that are clear of trees, buildings or other structures expect for the pipeline markers. Examples of pipelines markers include: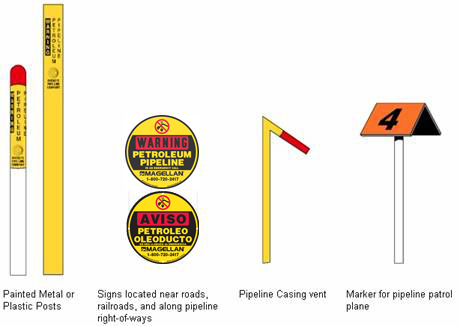 Recognizing a Leak
Pipelines are generally underground and out of sight, but they're not out of mind. Dispatchers watch operations around the clock with computers and satellites. Alarms and meters are designed to detect unusual changes in pressure or flow. By keeping a watchful eye, emergency systems can be activated quickly.
Safety Brochures